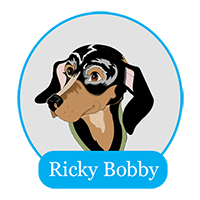 Meet Ricky Bobby!
Kindness Counts is about a little six pound dachshund who is rescued by kindness. This five-part mini-course includes:
1. An Interactive Reading and Discussion with Ms. Jenaia
a) Introduction to the meaning of CritterKin
b) Discussion of key vocabulary
c) How to help Ms. Jenaia read
d) Reading of Ricky Bobby's story with help from the kids
2. Ricky Bobby's Real-life Rescue
Ricky Bobby's story is based on a real dog who was rescued by The Humane Society in 2013 from a puppy mill. This video chronicles his real-life rescue, rehabilitation, and adoption. It is compelling proof that kindness and love have the power to heal.
3. Learn to Draw Ricky Bobby:
A step-by-step lesson that teaches kids how to draw Ricky Bobby
4. Making a Difference in the Real-world
A real-world project that kids can do to make a difference in the lives of real shelter dogs.

5. Guidelines and templates for parents and teachers
Goals
- Give children the opportunity to experience and practice kindness

- Help children fall in love with reading
- Improve vocabulary and listening skills
- Encourage self-reflection and creativity
- Explore important social-emotional topics such as liking yourself, being different, bullying, making friends, listening to others, and the importance of not giving up
Don't Miss a Thing!

Be sure to sign up for our email list to be notified when new classes are posted and to be entered in drawings and contests for free prizes: http://jenaball.com/subscribe-2/

If you have any questions, suggestions, or issues, please contact: Support@CritterKin.com
We'd love to hear from you!